56. Łódzki Rajd pamięci - zaproszenie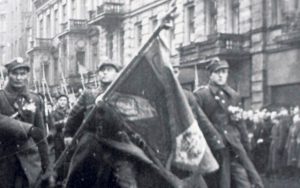 Za oknami zima, w sercach chęć na wspólną włóczęgę, a już za chwile w naszym kalendarzu imprez pierwsza ku temu sposobność. Łódzki Rajd Pamięci to jedna z najstarszych imprez cykliczny w Oddziale Łódzkim PTTK, kilka lat temu przejęta przez nasze Koło Przewodników i gruntownie zmodernizowana.
Uczestnicy wędrują na dwóch opracowanych przez pasjonatów Łodzi i regionu w taki sposób, by zapoznać się z dziejami tego fenomenu w Sercu Polski jakim jest nasze miasto. Tym razem dotkniemy ciemniejszych stron historii naszego miasta, powędrujemy śladami Łodzi z okresu II wojny światowej – będzie to namacalna, żywa lekcja historii w przestrzeni miasta.
regulamin rajdu do pobrania -
[LINK]