Wycieczka niedzielna 25.09.2016 - relacja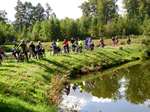 Niedzielna 25 września wycieczka p.t "Rzeki i zbiorniki wodne w okolicy Łodzi" zbiegła się ze "Światowym Dniem Rzek", który to dzień w niektórych kalendarzach przypadł właśnie na tę minioną niedzielę. Z miejsca zbiórki pojechaliśmy w okolice Zgierza -Krzywie, gdzie znajduje się 9 stawów rybnych t.zw. ''Piętnastki'', nazwa pozostała zapewne od poprzedniej liczby tych stawów, było ich kiedyś15. Są to dawne wyrobiska gliny, zajmują powierzchnię prawie 20 ha i należą do Polskiego Związku Wędkarskiego, występuje tam przynajmniej 10 gatunków ryb.
[ dalej >>]
W pobliskim Smardzewie jest inny zbiornik wodny zasilany rzeczką o nazwie Czarniawka. W tym dość urokliwym miejscu na wniosek większej części uczestników zrobiliśmy około godzinną przerwę.
W nieodległej miejscowości Biała następna frajda dla wędkarzy- skrzący w promieniach słońca zalew zasilany także przez Czarniawkę. W tejże miejscowości na cmentarzu zapaliliśmy w imieniu naszego klubu lampkę na zbiorowej mogile żołnierzy 28 P.S.K. Chwilę wcześniej zatrzymaliśmy się przy starym kościółku w Białej.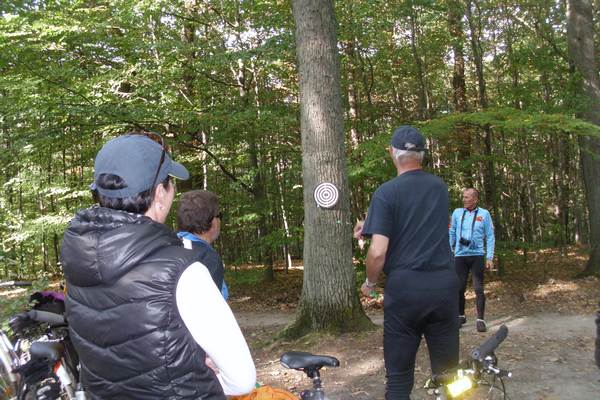 Dalej umiarkowanym tempem przez Szczawin, Swędów mijając stawy w Dobrej, dojechaliśmy do ostatniego etapu wycieczki, czyli Łagiewnik. Tutaj nad stawami przy Okólnej na pytanie z geografii prawidłowej odpowiedzi udzieliły dwie osoby: pan Jerzy Pokorski i kolega Bogdan Antonowicz, obydwu poczęstowałem słodyczami.
Ale "gwożdziem" programu wycieczki był konkurs w rzutach lotkami do tarczy. Ależ były emocje!
W dogrywce zwyciężył Radek Wojszczykowski, brawo! W nagrodę dostał statuetkę jak na foto.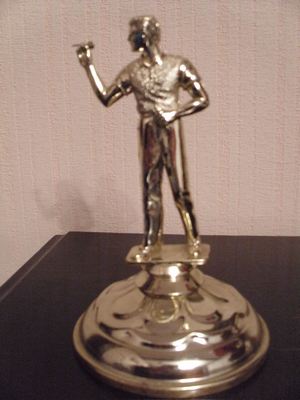 Na długo przed zachodem słońca wycieczka, w której wzięło udział 29 osób, została zakończona.
Z uwagi na moją dolegliwość tempo jazdy było średnie, grupa w miarę zdyscyplinowana, nie było zdarzeń kłopotliwych, za co dziękuje uczestnikom prowadzący i opisujący tę wycieczkę
Aleksander